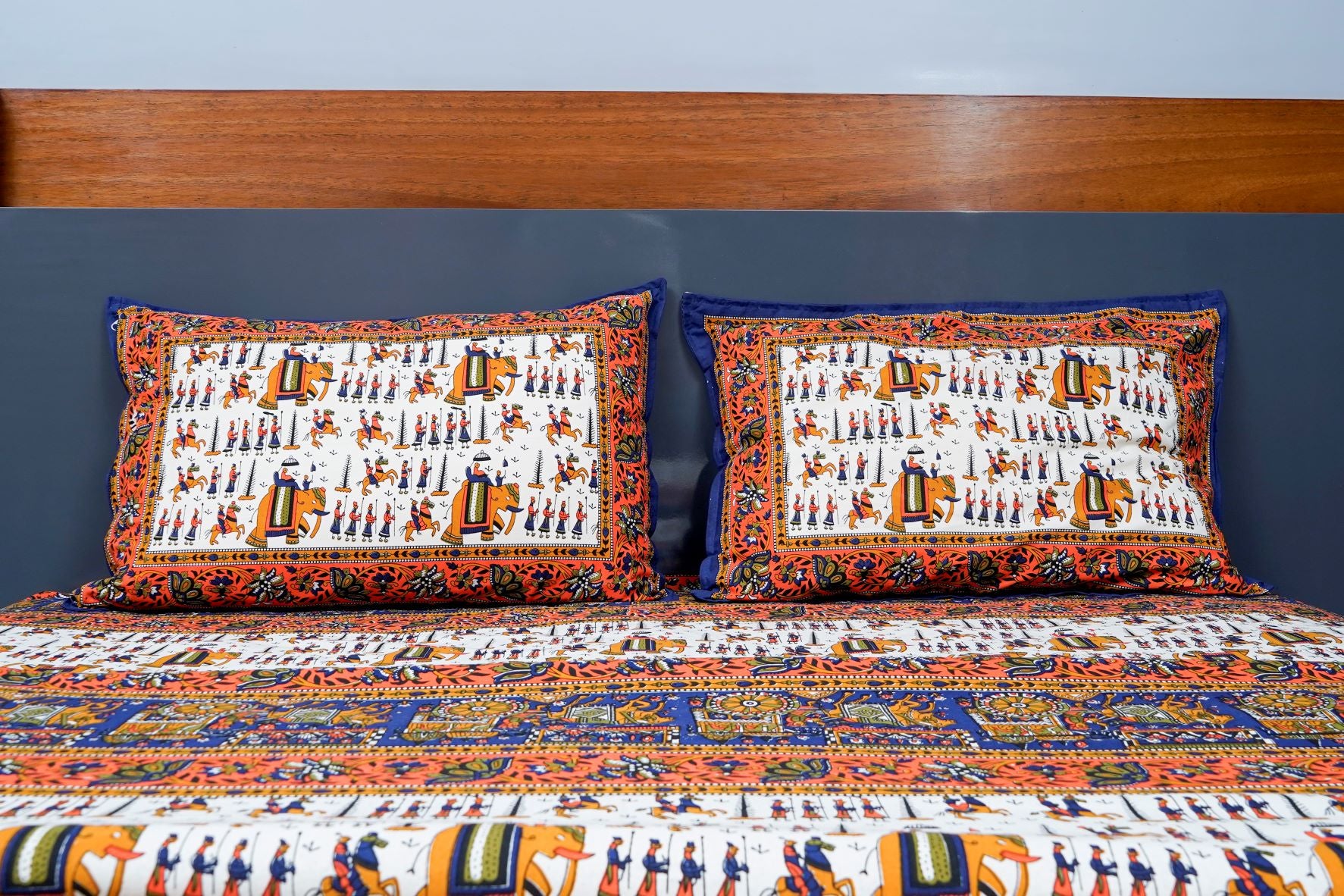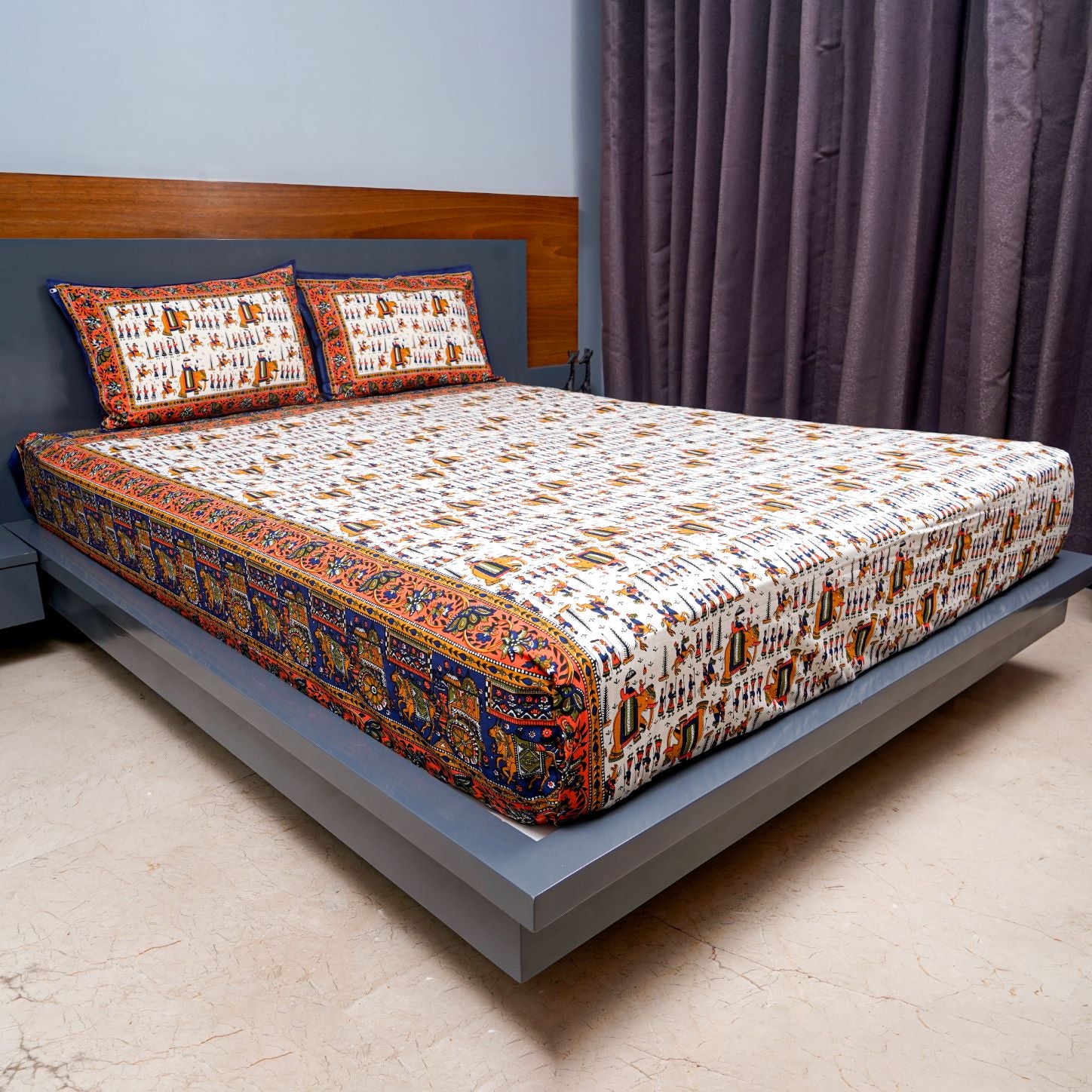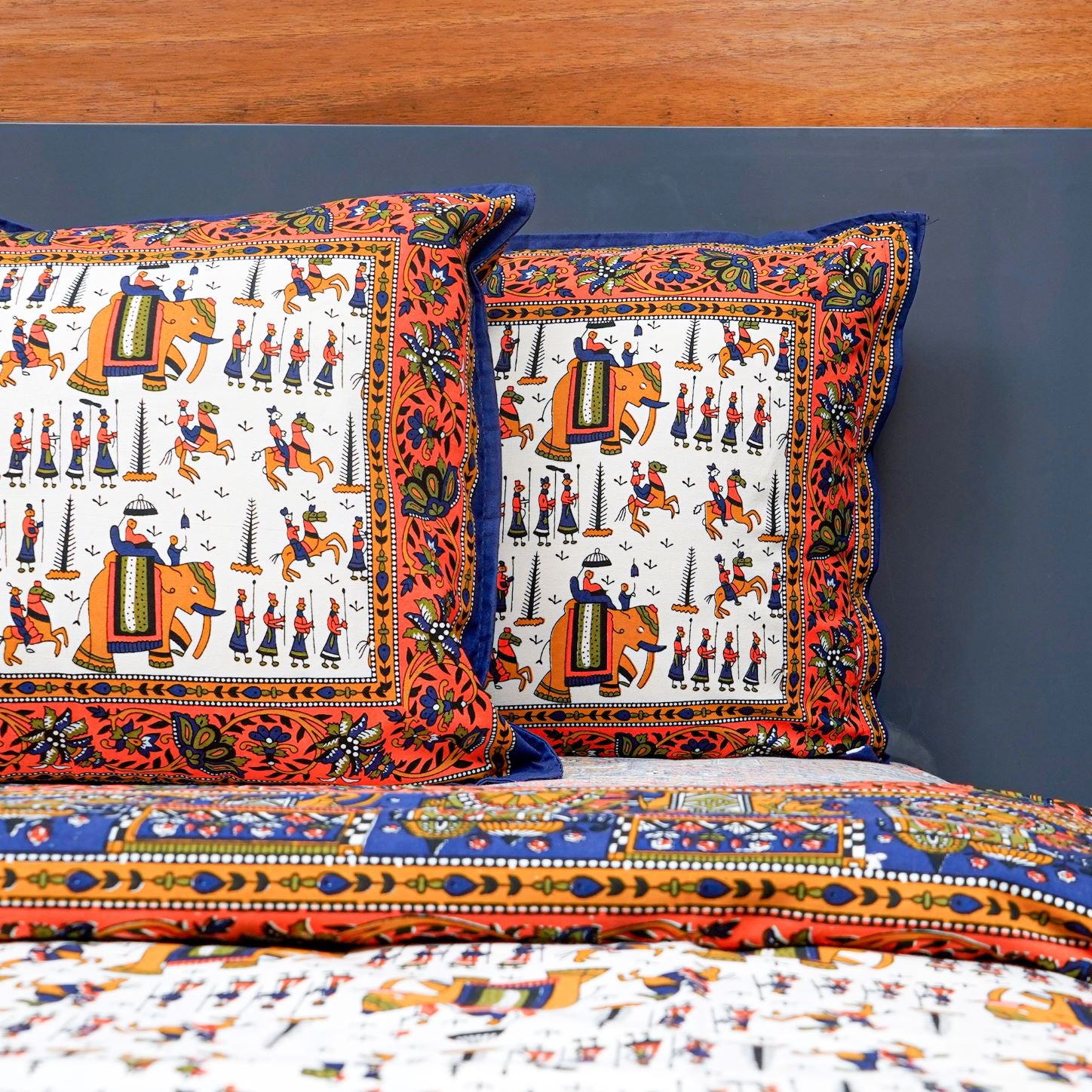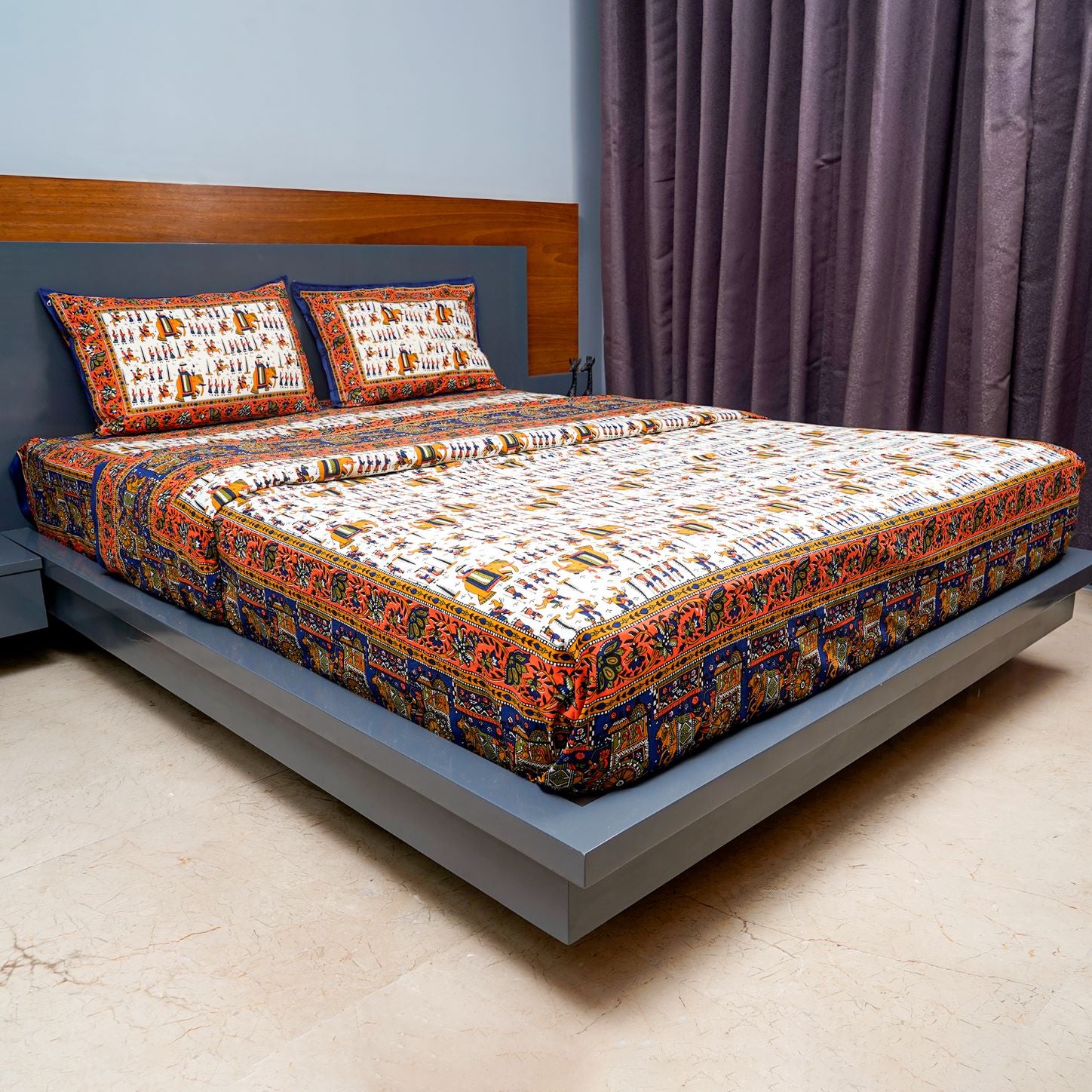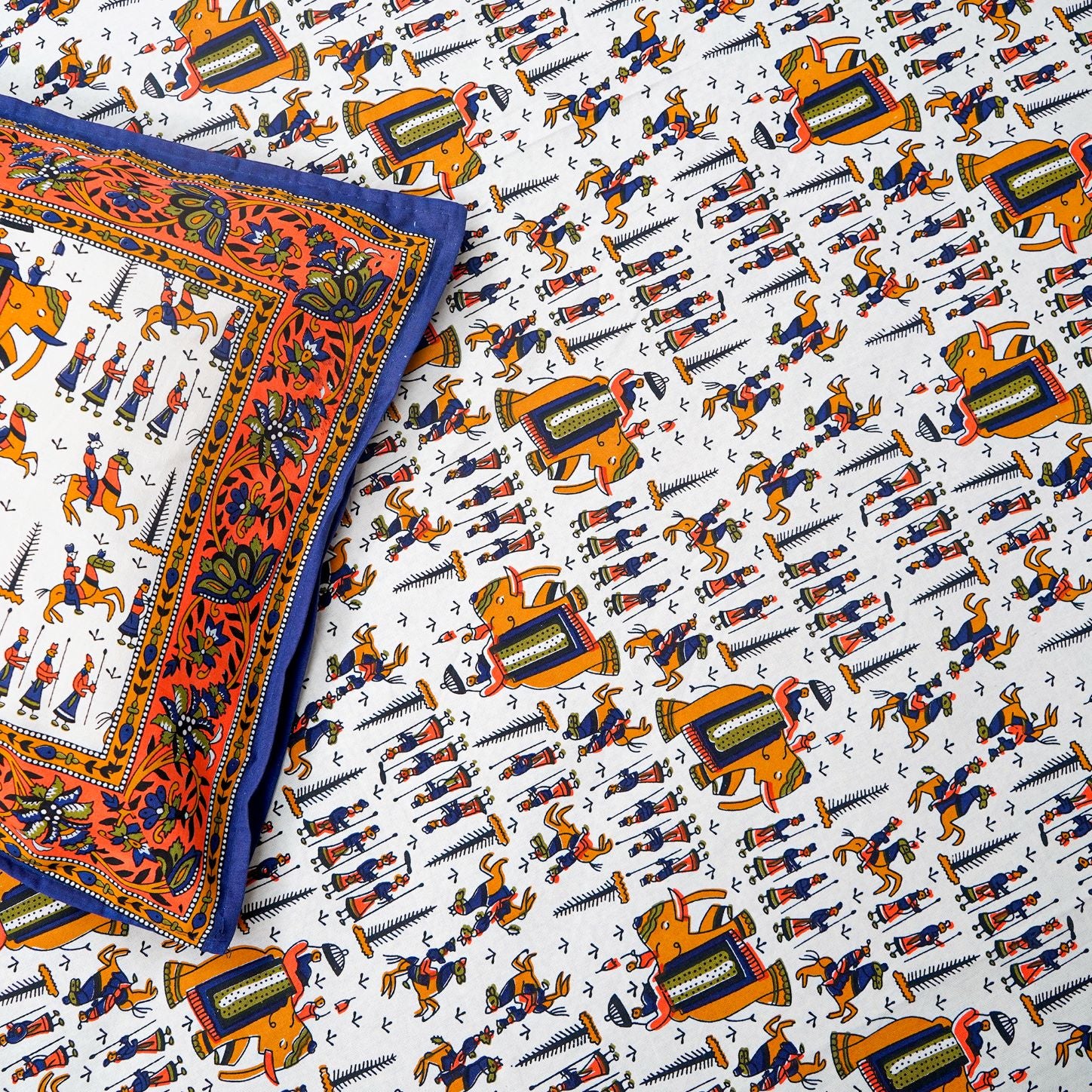 Inizio Pure Cotton Queen Size Bedsheet Jaipuri Traditional Sanganeri Print Soft & Lightweight Easy to Spread Comes With 2 Pillow Covers | Size 108"x90"
Inizio décor came up with a pure cotton Jaipuri traditional Sanganer printed queen-sized bedsheet with two pillow covers. Soft, breathable, and durable cotton bedsheet. Highly comfortable and soft to the skin, a low-maintenance sheet. This sheet is allergy resistant, wrinkle resistant, and is a pure cotton material it also has a natural temperature insulating material. Comes in three bright colors, is easy to spread, and gives a great traditional look to your bedroom décor.
FABRIC: Inizio offers you this beautifully printed queen-size bedsheet with a composition of 100% cotton, durable soft, and lightweight material.
IN THE BAG: You will have a beautifully Rajasthani Jaipuri traditional Sanganeri printed bedsheet with a size of approximately 108"x90" inches with a weight of 1.25 kg. Our sheet is having a three-color combination of off-white, orange, and blue, and comes with 2 pillow covers along with it with a size of 27.5"x17.5" inches.
MAINTENANCE: One of the biggest benefits of sleeping on our pure cotton bedsheets is that taking care of them requires little to no energy, time, and money. just put them in a washing machine, add your regular detergent, and set the program to 40′. Then, take them out while they are still damp and let them air dry. By doing that, there will be no need for you to iron them
FEATURES: Cotton sheets are soft breathable and comfortable for the skin. They are allergy-resistant, and skin-friendly, no matter what's your skin type you will wake up without any irritation. A low-maintenance bedsheet.
COMFORT: These sheets are highly comfortable for the skin when it comes to your sleep. It helps our bodies breathe throughout the night. the fact that cotton is breathable enables us to sleep comfortably even when our body temperatures change. cotton sheets absorb all the heat and sweat our bodies produce and make us feel a lot more comfortable.
Brand –                          Inizio

Manufacturer –              Inizio Décor Pvt Ltd

Material –                      Cotton

Color –                           Off-White, Orange, Blue

Sku-                               QBS/32

Size –                             108 x 90 x 0.01Inch

Package Weight –          1.25 KG

Package Included –        Bedsheet and 2 Pillow Covers

Country of Origin –        India