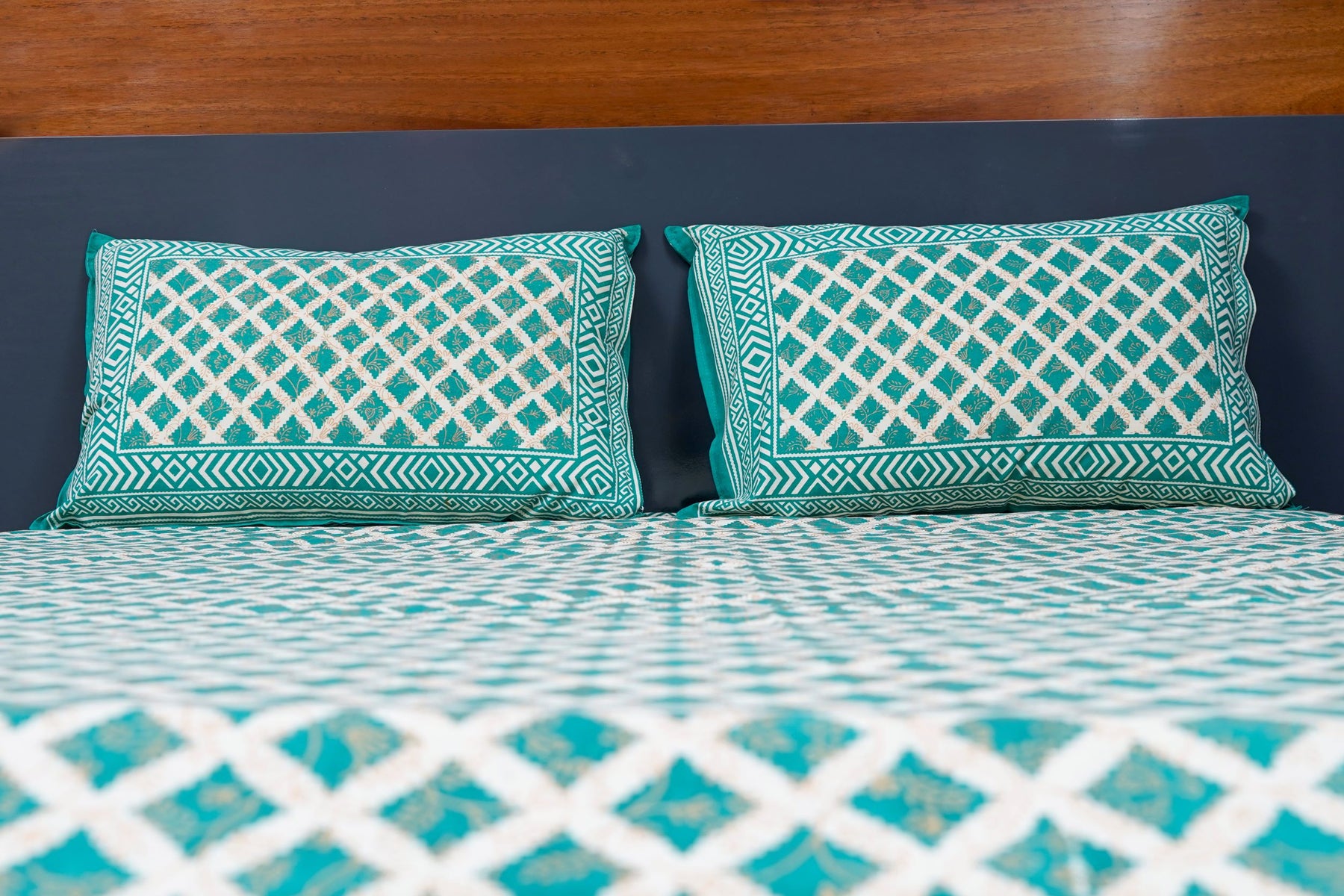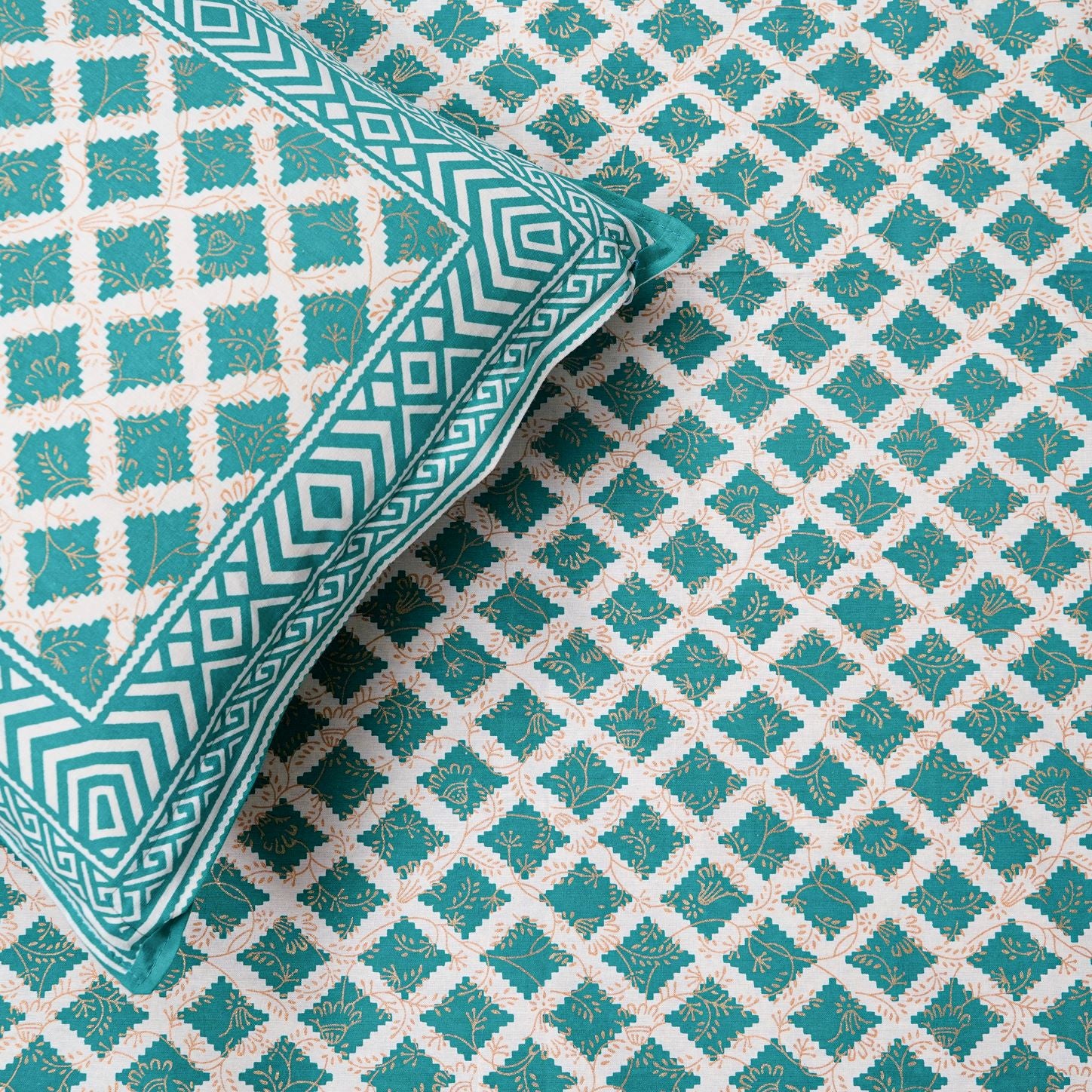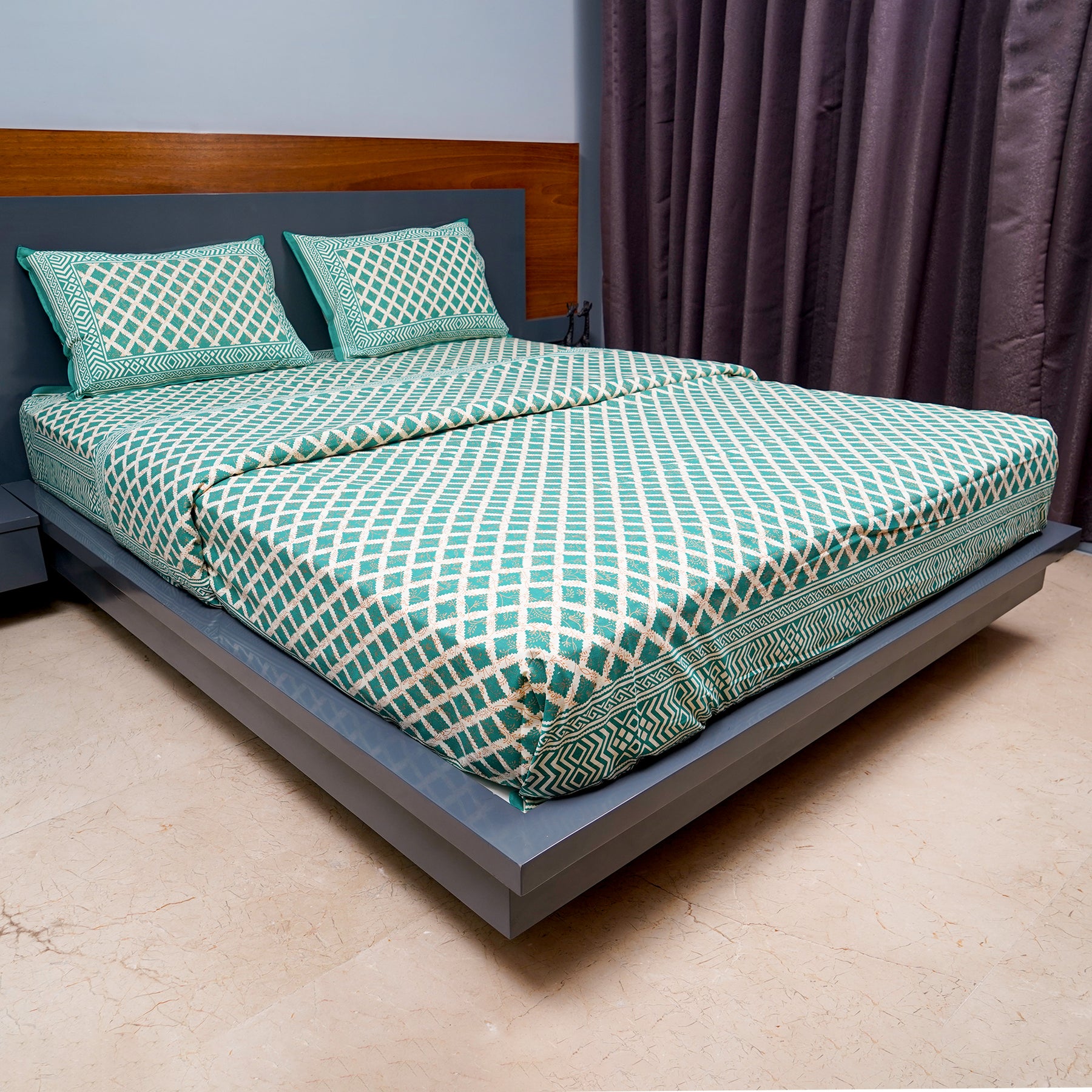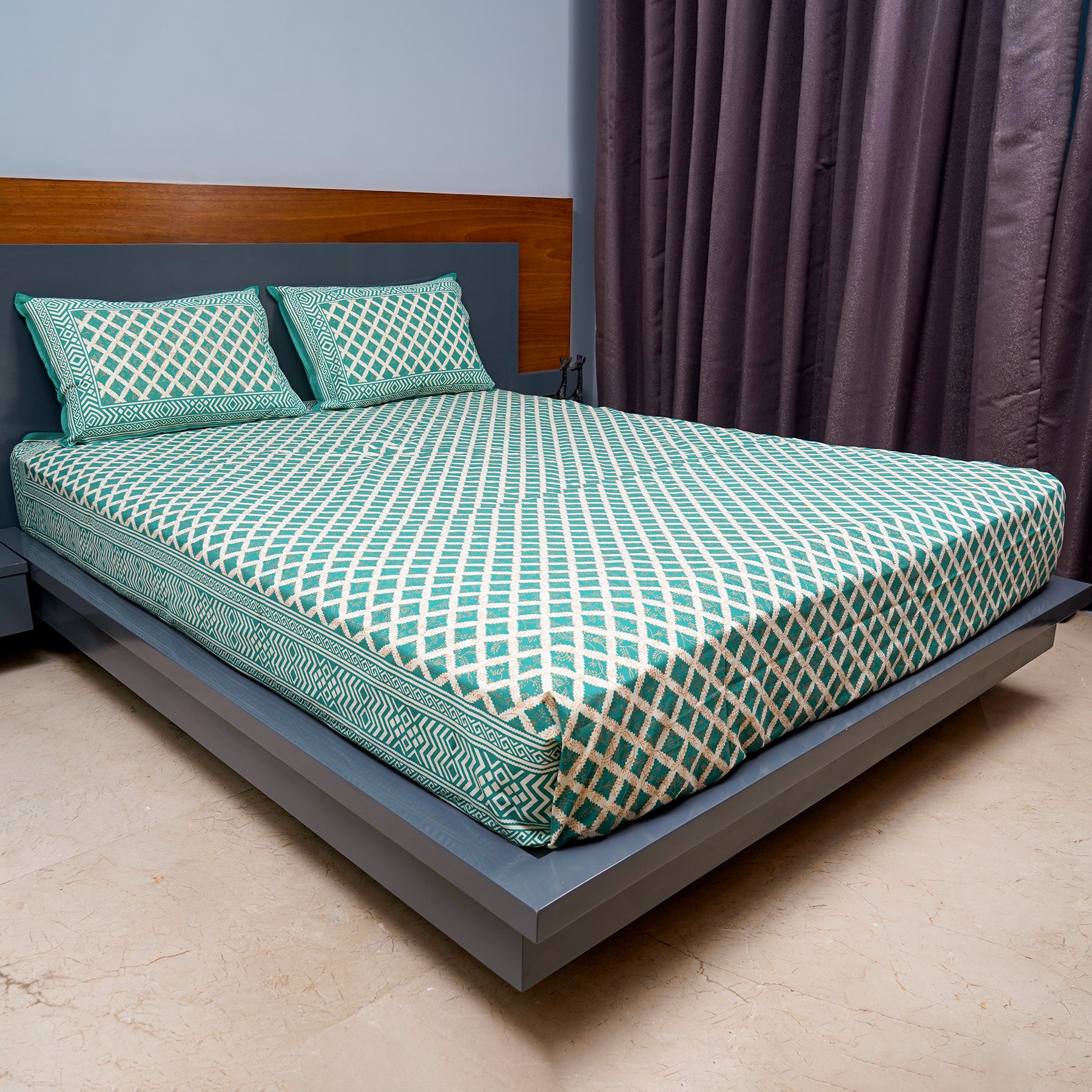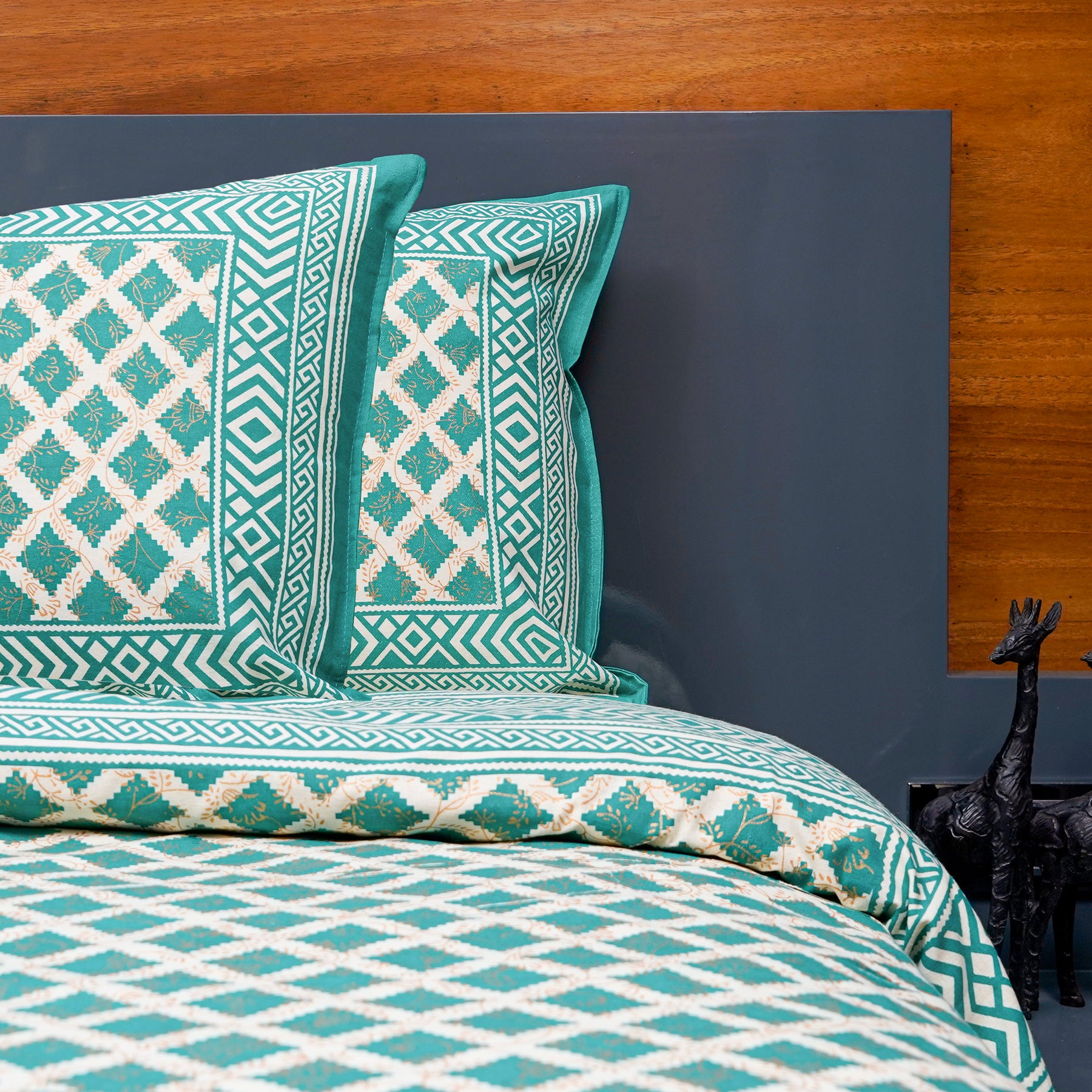 Inizio Jaipuri Sanganeri Hand Block Printed Queen Size Bedsheet with Two Matching Pillow Covers Breathable Cotton Fabric Flat Bedsheets for Comfortable Sleep
In addition to providing, you with king-size bedsheets, terry towels & bamboo towels, as well as other home décor items, INIZIO DECOR PVT LTD now offers cotton Queen size Jaipuri bedsheets with 2 complementary pillow covers in various motifs like stripes, florals, and abstract. Our 220 TC bedsheets, which come in a colorful selection of colors and designs that will look fantastic in Indian homes, will brighten up your bedroom's atmosphere. Queen-size Jaipuri bed sheets from Inizio Decor Pvt Ltd are wonderful housewarming and wedding presents.

 COMFORTABLE & SOFT – Soft, comfy sheets that allow your body to breathe are the first step to a good night's sleep. Your sleeping experience can be made or broken by your bed linens. Your body is covered in sheets as you sleep, which either helps or hampers getting a good night's rest.
COTTON BEDSHEET SET – Cotton bedsheets are the most pleasant and suitable for tropical or Indian environments. The ideal material for bed sheets is cotton because it is a natural fiber. A bedsheet made of 100% cotton boasts unparalleled texture, softness, and allergy-free features.
LIGHT UP YOUR HOME DECOR – You can use Inizio Jaipuri bedsheets, with a variety of colors, patterns, and designs, we help you in giving your home a special appearance. You can opt from a variety of designs, including bagru, floral, Sanganeri, and hand block printed, to discover a set that best complements your likes and existing home design.
ETHNIC LOOK – The Sanganeri hand block print on these Jaipuri bedsheets provides your bedroom with an elegant and stylish ethnic or traditional touch. With this queen-sized bedsheet, your house will seem attractive and lovely.
CARE INSTRUCTIONS – If you want your cotton bedsheets to last longer, wash them once a week. Initially, wash them separately. Wash dark colors separately. Machine wash on cold. Avoid using powerful detergent. Don't use bleach. Dry in the shade.
Product Specification –
Brand –                            Inizio

Manufacturer –                Inizio Décor Pvt Ltd

Material –                        Cotton

Color-                              Rama Green

Sku-                                 QBS/42

Size –                               108 x 90 x 0.01Inch

Package Weight –            1.25 KG

Package Included –          Bedsheet and 2 Pillow Covers

Country of Origin –          India