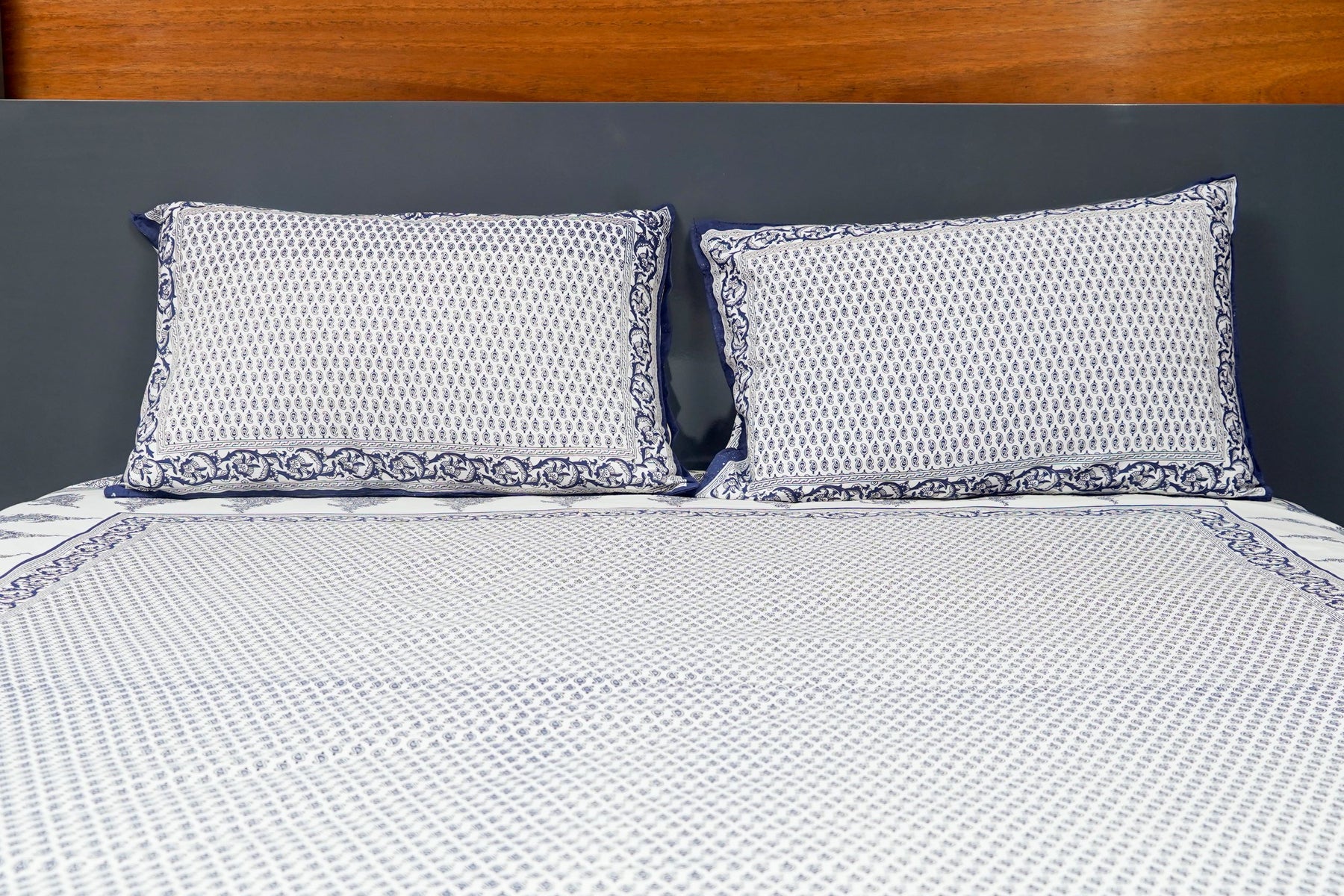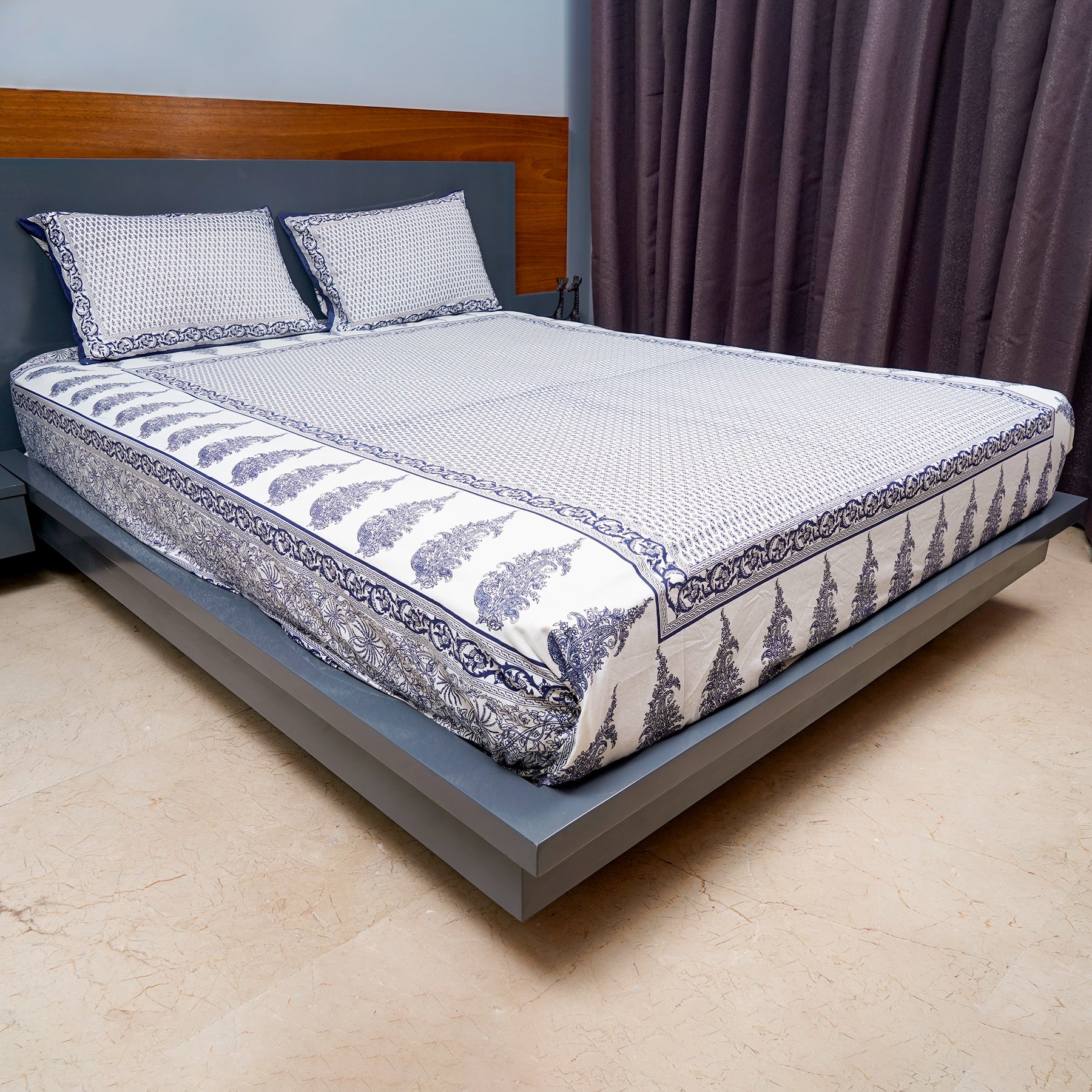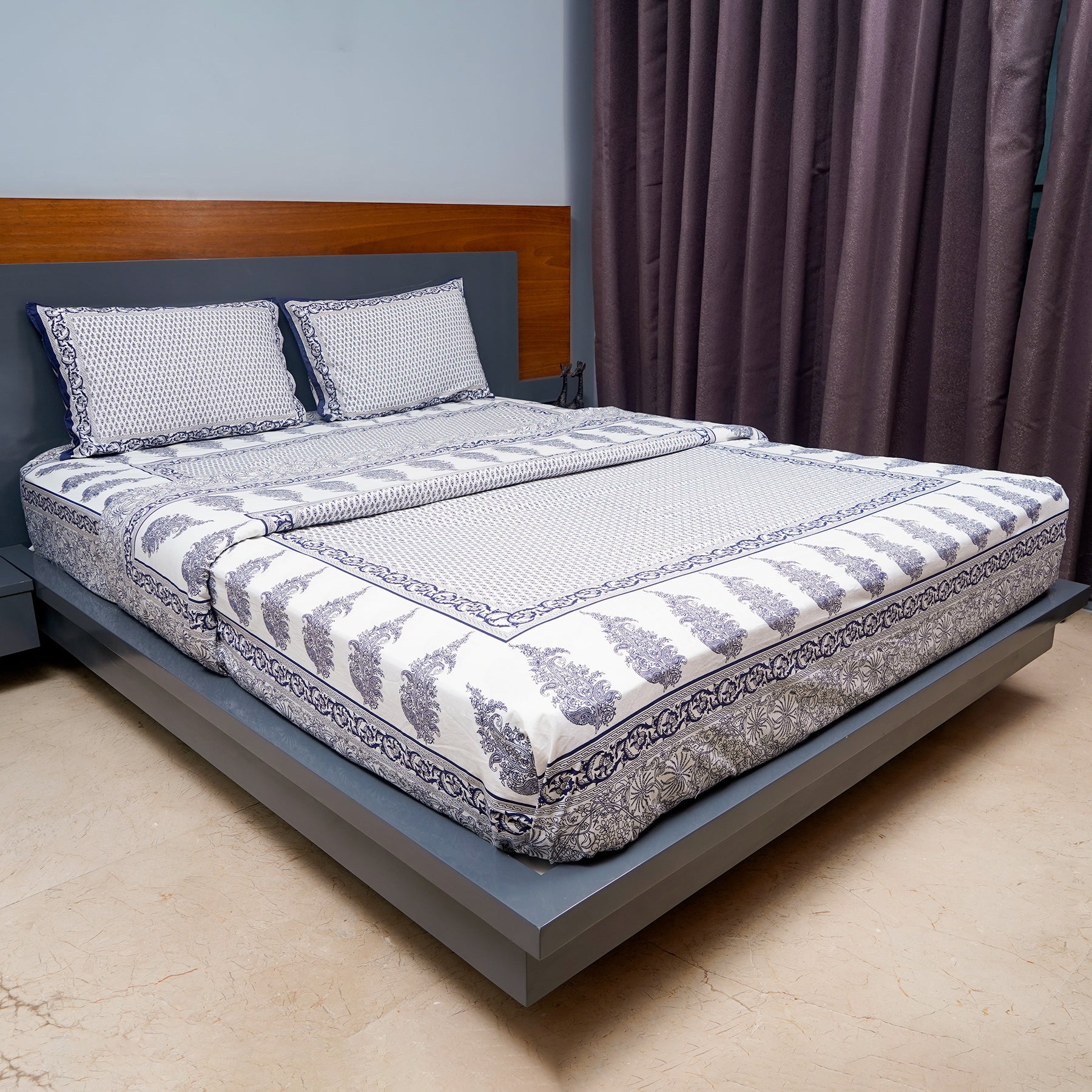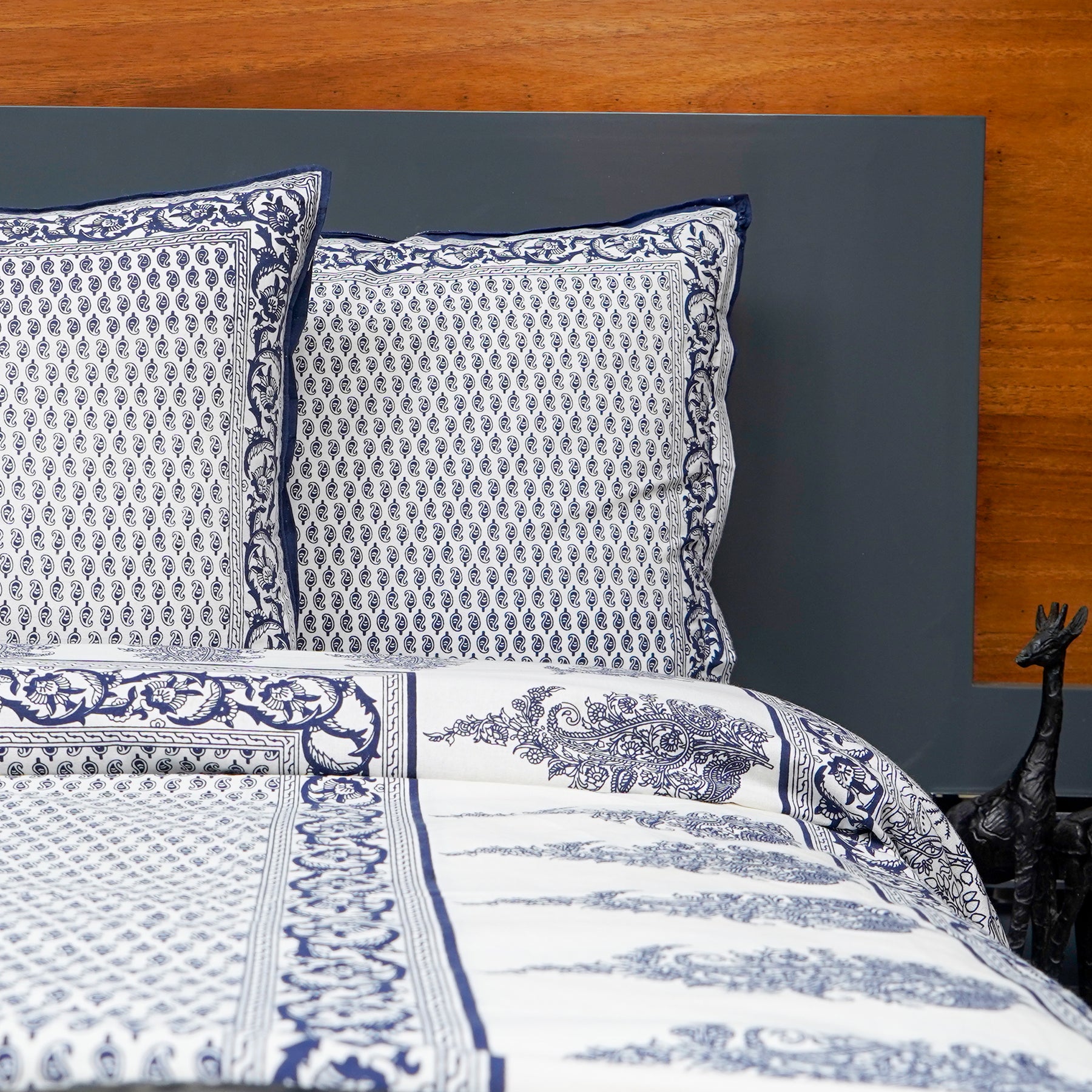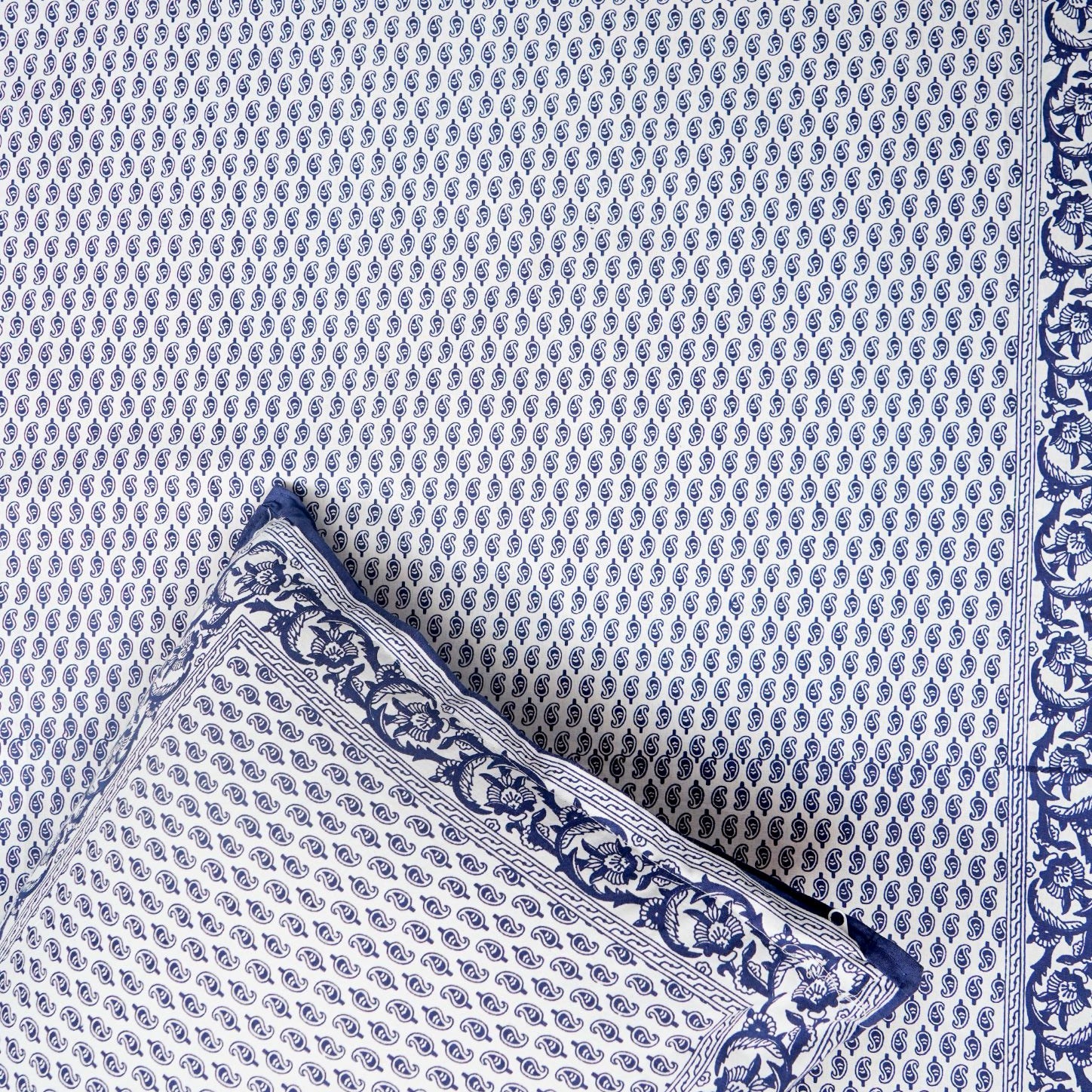 Inizio Queen Size Bedsheet with 2 Soft Pillowcases Jaipuri Sanganeri Rajasthani Print Cotton Lightweight & Breathable Fabric Color – White & Navy Blue
One of India's companies for home décor is Inizio Decor Pvt Ltd. Its name is closely associated with elegance, style, superiority, diversity, and modern home fashion trends. Dohar, bath & hand terry towels, bamboo towels, and a broad variety of other excellent home furnishing products are just a few of the many categories that Inizio Decor Pvt Ltd currently offers. You can't ignore that the appropriate bedsheets make your bedroom cozier, whether you enjoy making your bed or not. They even enhance the look of your home with their fun colors and patterns. And because we made our linen with soft, environmentally friendly ingredients, it aims to improve your quality of sleep.

SKIN FRIENDLY BEDSHEETS – Jaipuri bedsheets' ultra-soft cotton fibers are perfect for sensitive skin, particularly that of newborns and young children. You may relax knowing that our fabric is the softest and smoothest on the market and won't bother your skin.
COMFORTABLE FOR ALL SEASON – This cotton bedsheet is the ideal addition to any bedroom because it was made to be used all year long. In the fall or spring, throw it over you when you're lounging on the couch, or wear it as a layering piece under your comforter or bedspread in the winter.
PERFECT GIFT FOR LOVED ONES – These bed linens are suitable as gifts for many different special events, including birthdays, housewarming celebrations, Valentine's Day, and anniversaries.
DURABLE – Compared to microfiber sheets, which can be harmful to the environment and you, these pure cotton Jaipuri bedsheets are more long-lasting, sustainable, and environmentally friendly.
WASH INSTRUCTIONS - Wash it separately for the first few times. It should only be washed in a cold machine. Avoid using bleach or harsh detergent. Don't iron prints on. Keep your soaks minimal.
Brand –                  Inizio
Manufacturer –      Inizio Décor Pvt Ltd
Material –              Cotton
Colour –                 White & Navy Blue
Sku-                        QBS/40
Size –                      108 x 90 x 0.01Inch
Package Weight –   1.25 KG
Package Included – Bedsheet and 2 Pillow Covers
Country of Origin – India